How to Attract More Birds with Seed Cylinders
Seed Cylinders will stretch your birdfeeding dollars further and create less mess than feeding seed. Birds eat seeds and nuts off of the solid seed cylinder at a slower pace than eating "traditional" loose birdseed so it lasts longer. This gives you the same amount of enjoyment over a longer period of time.
| | |
| --- | --- |
| | |
| Wire Feeder | Dinner Bell Feeder |

Supreme Fare
The Bird Food Tube
Packed with pecans, peanuts, black oil and sunflower chips, our Supreme Fare Seed Cylinders entice a variety of birds. Put one in our Dinner Bell feeder and watch your birds chow down.

Cranberry Fare
A Berry Good Food for Attracting Birds
Our Cranberry Fare Seed Cylinders are packed with pecans, sunflower chips, peanuts, safflower, black oil sunflower and cranberries - everything you need to satisfy your birds. Try offering one in a Seed Cylinder Feeder or Dinner Bell feeder.

Naturally Nuts Dough Cylinder
A New Way to Offer Suet to Your Birds
Long-lasting and easy to use, our Naturally Nuts™ No-melt Suet Dough Cylinders contain peanuts, rendered beef suet, corn and oats. Simply place the Cylinder in our Decorative Seed Cylinder Feeder or Dinner Bell feeder and watch a variety of perching and clinging birds, especially woodpeckers, enjoy.
Our Naturally Nuts™ No-melt Suet Dough Cylinder is an easy, long-lasting way to offer a high-energy, high-fat food to your birds. Offering suet at a backyard feeding station is a great way to attract a wide variety of insect-eating birds. Birds that eat suet will still find natural food sources such as insects, insect eggs and grubs to get a well-rounded diet. This No-melt Suet Dough is rendered and refined to remove impurities that cause spoilage, and it's designed to withstand temperatures up to 130° F.

Safflower Sensation
Treat Your Best Birds, Not Unwanted Guests
Our Safflower Sensation is a dining delight for a variety of birds. Made completely out of safflower seed, it attracts birds such as chickadees, titmice, cardinals, House Finches and more. However, Safflower is typically not preferred by animals that may cause problems at your feeders — grackles, blackbirds and squirrels.
Stackables: Mix & Match for More Birds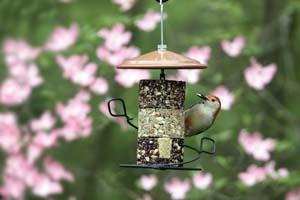 Create Your Own Food Combo and Attract More Birds
With several unique flavors to mix and match, our Stackables allow you to offer more than one flavor (including suet) and cater to the preferences of the birds visiting your backyard feeding station.
Stackables are long-lasting, easy-to-use and only available at Wild Birds Unlimited.