Greetings from the Folks @ the Danvers Wild Birds Unlimited® Nature Shop
Nature Products Designed by Experts - Trusted Local Advice!
Let's get started....by telling you about our Newest, Most Exciting Advancement in Bird Feeding: Bird Feeders & Accessories
Available only at Wild Birds Unlimited, our accessories are the most advanced bird feeding products available on the market
. EcoClean products feature a patented technology that inhibits the surface growth of damaging bacteria, mold and other microbes. This protection won't wash or wear away, and it uses environmentally friendly technology.
We like preparing you for the best backyard birdfeeding experience possible. At Wild Birds Unlimited®, our Certified Birdfeeding Specialists™ are trained to show you how to turn your yard into a birdfeeding habitat that not only brings song, color and life to your home, but also benefits the wild birds and the environment in your area.
WBU isn't just about selling birdfeeders and birdseed. We pride ourselves on being able to give you the most accurate information and knowledge about your local birds.
Based on more than 30 years of research and experience, our products have been designed to be the highest quality birdfeeders and birdfeeding equipment on the market today. We're so confident about our designs that many of our products carry a lifetime guarantee.
We're not only proud of our feeders though. We also have the freshest birdseed in town, and we can prove it. Our exclusive regional blends aren't just fresh; they're specially formulated from 100% edible seed that the birds in your backyard will love.
It is our goal for you to have the best possible experience from your birdfeeding hobby. Backyard birdfeeding is the most relaxing, fulfilling, educational and exciting hobby that anyone, young or old, can enjoy.
At Wild Birds Unlimited, we aren't just a birdseed store. We are Your Backyard Birdfeeding Specialist®, here to help bring you, your family and nature together.
The Joy Of Bird Feeding - The Perfect Gift!
Filled with useful information and illustrated with more than 800 images and 180 maps, The Joy of Bird Feeding is the essential guide for anyone who loves to feed the birds. In this book, Jim Carpenter, founder and president of Wild Birds Unlimited, shares a lifetime of bird feeding passion and experience, answers common hobby problems and provides fun bird feeding activities to share with family and friends. The Joy of Bird Feeding is the ultimate reference for backyard bird watchers and bird feeders. It offers practical tips and solutions to attracting and identifying birds, offering the best foods for the birds you want to see, and how to deter those unwanted guests to feeding stations. Each chapter focuses on an important aspect of the hobby and guides readers to the essential steps of bird feeding mastery.
Meeting Your Birds' Nesting Needs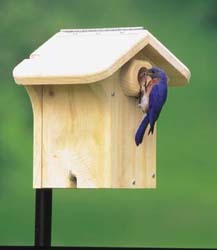 A new generation of birds will soon be entering the world, and the food and housing we provide can make a significant difference on how well they will thrive and survive in our own backyards.
Recent research studies show that birds with access to bird feeders often lay their eggs earlier than those without feeders. This is significant because earlier broods typically have better rates of survival and fledging success than later ones.
Feeders also allow breeding females to spend less time searching for food and more time selecting better nesting sites and constructing higher quality nests. The adults will also have more time available for protecting their nest, eggs and young from predators.
When abundant food is accessible to parent birds it means that more food is provided to their chicks. Studies have shown that this extra nutrition reduces aggression among nest siblings and increases their rate of growth.
But food is not the only key in helping birds to nest successfully in your yard.
A properly designed and installed nesting box can make a significant improvement in nesting success, especially during extreme periods of cold and damp weather.
Now is the time to take action for the next generation of birds in your yard and it's also a great time to have the next generation of kids come outdoors and help.
Attract More Birds to Your Yard with Water.
We carry so many birdbaths it is hard to describe exactly what you might find at our store.
Birdbaths and bird fountains are made out of every conceivable material, in every shape and size and can be placed anywhere you wish: on pedestals, chains, or decks.
We have recirculating fountains, big and small. We have Water Wigglers! We also have Drippers & Misters of all sorts to wet-it-up around your birdbath. Want to keep it clean and healthy around your water works, we have all sorts of cleaners and Mosquito inhibitors.
Tip: What can I put in my bird bath to keep it clean?
We do not recommend putting anything in your bird bath to keep it clean. Every other day you should empty the bath, scrub it with a brush and rinse it well. Refill with fresh water. If the algae builds up quickly, you can use a ten parts water to one part bleach solution to clean the bird bath. Be sure to rinse well and place fresh water in the bath.
Nature Products Designed by Experts - Trusted Local Advice!
Birds' beaks, feet, dexterity and other physical characteristics allow them to feed on specific natural foods, such as seeds, nuts, fruits/berries, insects, flower nectar and sap. For this reason, the bird food in our feeders should mimic birds' natural food sources. Here are some examples:
Sunflower and safflower seeds mimic tree seeds, including pine, hemlock, spruce, maple, elm, sweetgum and more than 60 native sunflower species.
Millet mimics small, native flower and weed seeds, such as crabgrass, chickweed, knotweed and foxtail.
Nyjer® (thistle) mimics weedy flowers with small seeds such as native thistles, goldenrod and ragweed.
Peanuts, in or out of the shell, mimic many species of acorns and pine nuts.
Mealworms mimic the wild insect larvae typically consumed by numerous bird species.
How to Accessorize Your Advanced Pole System
How to Create a Bird Feeding Station - Advanced Pole System® 2 Minute Challenge
Join the Daily Savings Club! You will get an extra 5% over the Sale price on food items and it only takes 200 points to get $10.00!

The Benefits from the Wild Birds Unlimited Daily Savings Club
Receive 15% off regular, every day bird and wildlife food prices and an additional 5% off sale prices of bird and wildlife food at the Wild Birds Unlimited store of purchase.
Get a $10 Bird Buck for every $200 dollars you spend on any merchandise in the store.
You'll also be rewarded with a FREE gift as well as Club-member-only specials.
The Perfect Gift for Every Nature Lover

Every nature lover is different, so finding the ideal gift for him or her can be difficult. That's
why our Gift Cards are the perfect gift for every occasion. They allow your friend or loved one to choose what part of nature he or she wants to enjoy. The best part: our Gift Cards are redeemable at every Wild Birds Unlimited location.
If you need to check the balance on your Wild Birds Unlimited Gift Card, click here.
Birds love our exclusive seed cylinders and no-melt suet cylinders. Unfortunately, so do many nimble, furry backyard inhabitants.
Well, no more! We've added some heat to our bird food cylinders. While birds such as chickadees, titmice and nuthatches readily eat foods containing hot pepper, pesky critters will shy away from them.
For best results, use a cylinder feeder with a roof to prevent the hot pepper from being washed off or diluted by the weather.
Are You A "Responsible" Bird Feeder?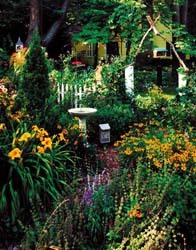 If you enjoy feeding and watching your backyard birds, then you probably want to do as much as you can to practice your hobby safely and ensure the birds' overall health and well-being. Just as people can catch colds or other illnesses from people who are sick, birds that feed at crowded or dirty feeders have the potential to develop diseases that are harmful to them.
While the incidence of birds falling ill from feeders is small compared to other natural hazards birds face, there are things you can do to help your birds stay healthy:
Provide multiple feeding stations in different areas of your yard to disperse bird activity.
Provide seed from a bird feeder rather than scattering it on the ground.
Keep areas clean under and around your feeders.
Keep fresh seed in the feeder and be sure it doesn't get moldy.
Clean your bird feeders regularly with a solution of one part bleach and 10 parts water.
For other tips or questions, stop by our store and talk to one of our Certified Birdfeeding Specialists.
Attracting Birds To A New Feeder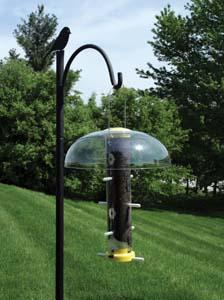 What's the best way to attract birds to a new feeder? There isn't a perfect answer for this question, but it's one we get a lot! There are times when you put up a new bird feeder and birds come to it within minutes. And, other times it can take months for the birds to come. You may notice the birds fly by a feeder and stop in mid-air as if to say "whoa, new feeder alert, turn back!"
Give the birds time to find the feeder and get used to its presence in your yard. Make sure the birds can see the feeder, as they find their food by sight. Try putting some seed on the ground or near the feeder. Above all, be patient!
Molting: Out with the Old, In with the New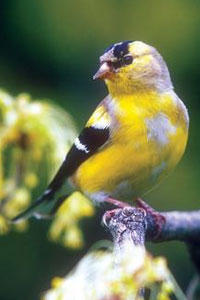 Just as people make seasonal wardrobe changes, many birds are beginning a transformation of their own, losing and replacing their feathers in a process known as molting.
Molting is when a bird replaces some (partial molt) or all (full molt) of its feathers.
This complicated process requires a lot of energy and may take up to eight weeks to complete. Molting is so physically demanding for most ducks and geese that they can't fly and will molt in seclusion to avoid predators.
Molting season varies by species and time of year. Right now many birds are beginning their main molt of the year, however, American Goldfinches (pictured above) are one of the last to molt. Due to their late nesting period, they won't start their molt until late August.
Distinguishing birds that are molting from those that are not can be difficult. Though some birds may lose patches of feathers and appear "balding," most birds' feather loss and replacement are far less noticeable.
Feathers are made of more than 90% protein, primarily keratins, so every molting bird needs extra proteins to grow strong feathers for proper flight and effective insulation.
For the next few months, offer high-protein bird foods, such as Nyjer® (thistle), peanuts, Jim's Birdacious® Bark Butter® and mealworms, to ensure that your birds have a reliable source of protein to help them with molting.
Visit us soon for all of the high-protein foods that will meet your birds' needs.
We have everything you need to help your birds keep going (and re-growing feathers) during this critical time.
Bird Feeding: A Hobby for All Seasons
How good are our seed blends? So good, Martha Stewart has tasted them!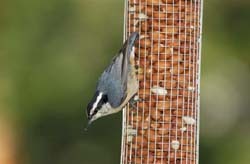 Our blends may be tasty enough for the "Domestic Diva," but, they can't overcome nature and disrupt birds' normal routines.
See, there's some sort of urban myth that says people should not feed the birds year-round because it will make them lazy or too dependent on food offered at feeders.
In truth, there's no reason, or season, you should stop feeding your birds. After all, food offered at feeders only makes up about 10 to 20% of a bird's diet.
During winter, food is scarce and birds fed in these harsh months are more likely to survive to raise their young in the spring.
Birds that are fed during nesting season spend less time away from their nests looking for food.
During summer, many food sources are still growing and providing food allows birds to teach their fledglings where and how to feed. In the fall, you can provide food for migrating birds and help over-wintering birds prep for the tough months ahead.
Birds with year-round access to abundant food supplies, such as backyard feeders, can spend more time doing activities that enhance their health like preening, nesting, molting and being more alert of predators.
So stop by the store for the best prices on the best bird food in town. We will help you enjoy your birds more and make their lives a bit easier, and that's a very good thing.
Variety is the Spice of Bird Feeding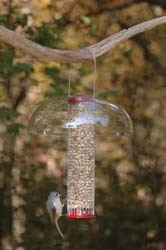 Bird feeding has come a long way since its primitive beginning in the late 1800s.
In those days, bird feeding enthusiasts could only offer some waste grains swept up from a hay-loft, bits of suet or pork fat nailed to a tree or maybe a few table crumbs placed on a tree stump.
Today, thanks to decades of observation and research, the menu available to your backyard birds is the most diverse, highest quality ever offered.
This broad selection of foods has been developed specifically to attract a wider variety of birds to your feeders and provide the most beneficial foods to meet birds' nutritional needs.
Peanuts, being relatively new to the bird feeding menu, are a great example. They are nutritionally high in protein and fat while being very attractive to a broad array of woodland and backyard birds.
Since the 1990s, mealworms have dramatically grown in popularity because of their ability to draw insect-loving birds, such as bluebirds, wrens, catbirds and even certain warblers into the backyard.
Then there's Jim's Birdacious® Bark Butter® — no other single food is known to attract more birds. More than 76 species have been observed feeding on this nutritious, spreadable suet.
So embrace these advances in bird food. They will attract an exciting new variety of birds to your yard, while providing them with much better nourishment than the foods our ancestors scraped together more than 100 years ago.
Clean Your Feeders Before Refilling!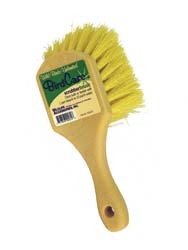 Generally, all you need is warm water and some sort of feeder brush that will allow you to scrub the inside. Rinse and dry thoroughly before you refill. If the feeder has any mold in it, or you have noticed sick birds around the feeder, consider cleaning the feeder with a solution of 1 part bleach to 10 parts water. Rinse thoroughly and dry. Check out our line of Wild Birds Unlimited BirdCare brushes.
And remember, never add fresh seed on top of old seed
Fun Facts About Squirrels
Adult Squirrels can consume about one and a half pounds of seeds and nuts each week, which is roughly the equivalent of their own body weight.
Squirrels' favorite natural foods are hickory nuts, pecans, black walnuts, and acorns. Their favorite feeder food is black oil sunflower seeds, their least favorite feeder food is Nyjer® (thistle) seed.
A 19-inch-long gray squirrel has a seven-foot-long digestive track that enables it to utilize a wide variety of foods including tree fruits, insects, bird eggs and mushrooms.
Squirrels must drink water at least twice per day.
A squirrel's scalpel-sharp incisors grow about six inches per year. As with all the other members of the rodent family, squirrels must constantly gnaw on hard materials to keep them worn down and to sharpen them.
In an hour's time, a squirrel can collect and bury 25 nuts. Unable to remember each nut's location, they find them again by using a highly developed sense of smell.
During a harsh winter a squirrel may loose up to 25% of its body weight.
Most squirrels are active in the winter only around mid-day, during the remainder of the year they are early risers with a peak activity period during the two hours after sunrise and again during the mid-afternoon.
The name "squirrel" originates from the Greek words for shade and tail.
Squirrels will have a litter of three to four young around early January and again in early August. The average life expectancy of these youngsters in the wild is approximately one year, although some captive squirrels have lived up to 15 years.
Squirrels may den in the ground, tree cavities, and in nests they construct that are called dreys. Summer dreys are located in tree branches and consist of twigs and leaves. Winter dreys are waterproof and have a lining of bark, lichen, moss, fur and leaves.
Squirrels can jump up to six feet vertically and eight feet between trees or structures. Placing feeders and baffles outside of their jumping range will help to deter them.
The Gray Squirrel uses its tail as a shield when fighting, as a blanket in cold weather, and, sometimes, as an umbrella during rain storms.
The Gray Squirrel weighs only ½ an ounce at birth and reaches its adult size six months later.
The Gray Squirrel stocks its winter pantry by burying up to 10,000 nuts each fall. It also feeds on grapes, fungi, grasses, larval and adult insects, and amphibians.
The Fox Squirrel sweats through its paws. During hot weather, it will actually leave damp tracks on a dry surface.